Wood's Body Shop is a full service auto body repair facility that uses state of the art equipment and supplies to repair any year, make or model vehicle to pre-crash condition. We work with all major insurance companies and happily service those "out of pocket" repairs.
Vehicles are repaired inside our 15,000+ square feet facility using premium materials including Sherwin-Williams Ultra 9K Waterborne Refinish System in our Garmat paint booth. Our capabilities include free computerized estimates, pre and post scans, ADAS calibration, Prospot resistance and mig welding, plasma cutting, Chief Goliath 360 degree frame machine and Laser Lock measurement system, etc.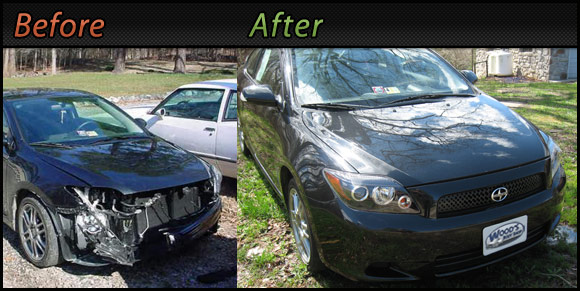 Family owned and operated for over 45 years, Eddie Wood opened Wood's Body Shop in 1975. After growing up around the business his son, Tony, is now the owner and hands on operator. Since it's start, Wood's Body Shop has seen many industry changes and has remained competitive by instituting necessary technological advances to remain viable and reliable in today's market.
Wood's Body Shop, LLC is conveniently located in New Kent County, Virginia between Richmond and Williamsburg, 5 miles east of Bottoms Bridge on Route 60.
Come in for a free computerized estimate today!
Wood's Body Shop also sells used and rebuilt cars, trucks and SUV's. Check out our used car lot page for current stock.